Fitness Cheat Sheet: Yamuna Body Rolling
Fitness Cheat Sheet: Yamuna Body Rolling
The pressure of rolling a ball against your muscles allows a release of tightness, lengthening of muscles, and re-aligning of joints that may have been pulled out of place, allowing circulation again. This translates into much less soreness, increased range of motion, and a faster recovery for the burnt-out athlete.
Image: Yamuna Studio
It's these benefits and more that Yamuna Zake hopes to share with students of her Yamuna Body Rolling technique.
The class she teaches serves as a self-fixing and sustainability tool with the power to align the body, prevent breakdowns, heal existing ones, and even improve bone quality. She recommends it before beginning any other type of fitness practice to be sure you're starting out problem-free.
There's also a second level of healing that takes place.
"It directly stimulates the nerve roots of the spine, which then stimulates organ system functions," says Zake, owner of Yamuna Studio in New York City. "It is a self-empowering, self-healing tool which allows you to problem solve, prevent, and maintain all your body parts now and in the future. It is also an anatomy tool because it teaches you how to work all your body parts anatomically correctly."
Wear It… to Class
If you try a class, you should wear easy-moving, comfortable workout clothes, but no oversized T-shirts! "The ball will get all caught up in the T-shirt and not move," says Zake.
Image: Yamuna Studio
Say It… For Motivation
"Tell a friend that you want to take her to a class where she will walk out taller, with all the stress melted out of her common tension points, and feel lighter, thinner, and freer in her body," says Zake. "For sure she will be in!"
Just be sure to explain that this has nothing to do with common fitness classes, Pilates or flow-type of yoga. "She has to be open to letting her body unwind and free and correct itself."
Find It… Near You
If you're in New York, head to the original Yamuna Studio in Greenwich Village. Not in New York? Go to www.yamunabodyrolling.com to find a YBR certified instructor in your area, or you can purchase DVDs and balls through the Yamuna Studio store, if there is no one located near you, says Zake.
Do It…Now!
The main reason people don't try Yamuna Body Rolling is that they've never heard of it. "Though we have been around for a long time, we are not a part of what commonly falls under the category of fitness," says Zake.
People tend to find the class when they are looking for a new way to approach their body. "Unfortunately most people find us after they have been seriously injured through a fitness choice."
But Yamuna Body Rolling helps heal their bodies and learn what they need to do to keep their bodies in good shape going forward.
"If somebody does not like gyms or common fitness activities, then usually they love this," says Zake. "The person who knows it is important to keep the body healthy and in good shape but hates the pushing and intensity of so much of what's offered at gyms usually loves Yamuna Body Rolling."
SARAH BELLAGAMBA
Her different classes are meant to do just that : teach you tools to keep your body moving and injury-free. Whether you fly with her in the AntiGravity Hammock, roll on a Yamuna ball or just flow on your mat, you will create space in your body, linking your movement to your breath, and leave the class recharged and energized.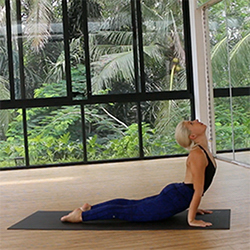 STUDIO CLASSES AND WORKSHOPS
From Vinyasa Yoga classes, to special focus workshops including Fascia release and Body Rolling, Aerial Yoga or Yoga with essential oils, I have taught at Parisian studios such as Beyoga, Blanche 21, Caelo, Centre Element, Klay, Kshanti, Paris Yoga Shala, Snake & Twist, Tigre Yoga Club, L'Usine, Yoga Garden Rive Gauche, as well as internationally (Italy, Spain, Lebanon, Japan, Singapore, Bali, Thailand, Sri Lanka. )
CONTACT ME TO SCHEDULE A CLASS OR WORKSHOP AT YOUR STUDIO
PRIVATE COACHING
Private coaching is a perfect way to dramatically improve one's practice. Whether you're a beginner or an experienced yogi you will benefit from this custom-made instruction specifically designed to match your needs, goals and expectations.
CONTACT ME TO SCHEDULE YOUR TAILOR-MADE SESSION
CORPORATE YOGA
Many progressive businesses have embraced corporate yoga. Offering Yoga in the workplace has great benefits : it helps reducing stress, enhances employees strength, posture, increase their focus, efficiency, productivity and creativity. From slow and meditative to energizing and active practice, I can offer a wide range of classes to help your business be more competitive with less sick leave, and happier employees.
CONTACT ME TO BRING YOGA OR MEDITATION TO YOUR OFFICE
HOTELS AND SPAS
Yoga and wellness are becoming a whole new branch of tourism. My passion for movement and the anatomy of the human body, my creativity and entrepreneurial spirit fuel my will to succeed in serving an increasingly large and ever more demanding clientele. My professional experience is a definite asset in meeting the demand of high-end hotels guests. I have worked at prestigious establishments such as Crillon, Mandarin Oriental Paris, Park Hyatt Vendôme Paris, Hôtel Barrière Le Fouquet's, Grand Hôtel du Palais Royal Paris, La Réserve Paris, Novotel Eiffel Tower Paris, Novotel Vaugirard Paris, Sofitel Manama (Barhain), Sofitel Casablanca (Morocco).
SCHEDULE A PRIVATE COACHING, AN EVENT OR A RETREAT IN YOUR HOTEL
YOG'N'ROLL ONLINE
While the majority of the world is on lockdown and we are separated physically, I am very excited to bring a community of people who care about wellbeing and self-care together through my new live streaming classes, as well as a selection of recorded videos. Though it may not be the practice you are used to, I think body sustainability practices are essential to making your body feel good and keeping your mood elevated.
PRACTICE WITH ME ONLINE
PADDLE YOGA
A unique Yoga class in an exceptional setting.
Explore new sensations and find your balance practicing yoga on a Paddle.
Eager to offer new experiences to the wellness community, I embarked on the conquest of the most beautiful parisian pools, implementing the first Paddle Yoga classes in Paris.
Private sessions for hotel guests or small groups (according to the pool size — to guarantee smooth and successful conduct of the class). Paddle Yoga will bring originality and wellness to your events.
I have 8 Aqua Marina Stand Up Paddle Boards. The rectangular-shaped Peace SUP boards are wide and stable for a safe and serene yoga or fitness class.
On the Diane Barrière Spa activities menu since Spring 2018, Paddle Yoga classes earned the Fouquet's Hotel several TV appearances for World Wellness Weekend.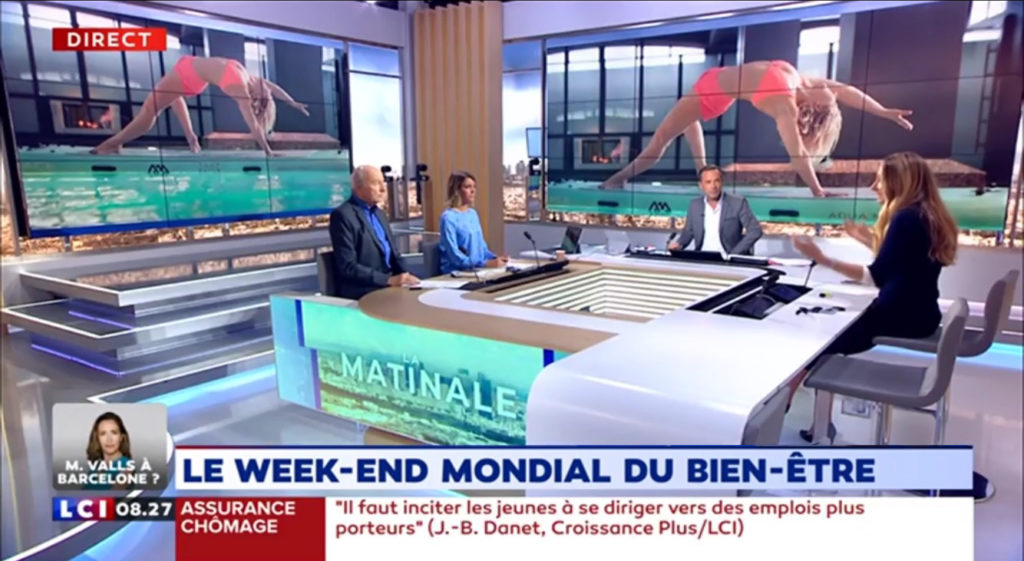 ANTIGRAVITY® YOGA AND FITNESS
Workout and fly high!
Mixing Yoga asanas, Pilates exercises and aerial dance into a workout.
This is the challenge the American world-class gymnast and Broadway dancer/aerial choreographer Christopher Harrison took up when he realized aerial arts and simple suspension techniques also had health and fitness benefits for the general public and that some seemingly impossible inverted poses were in fact much easier to practice in the air.
Halfway between circus and meditation, AntiGravity® pleases «extreme disciplines» addicts as well as relaxation enthusiasts.
In your hammock, you will workout like never before : strengthen your upper body, stabilize your core, tone your legs and align your body from head to toes.
Zero-compression inversions are an excellent way to reduce stress while decompressing the spine and neck and stretching the whole body. While in the relaxing poses, you can cradle in your hammock, finding presence and awareness, of body, mind and spirit.
Not only will you become more efficient with your movement and more confident about physicality, but you will become lighter!
The technique has been endorsed by Ironman's Gwyneth Paltrow as the secret to her health and fitness and Christopher Harrison himself promises «If you can 'suspend your disbelief ', I guarantee that I can make you healthier, happier, and taller in just one session.»
YAMUNA BODY ROLLING
Looking for a new way to enhance your well-being and help you sustain a healthy, vibrant, and stress-free body?
Try YAMUNA BODY ROLLING
Unlike other ball exercises, Yamuna Body Rolling goes far beyond random movement and stretch. Based on anatomy and body logic these series of routines, created over 20 years ago by internationally-acclaimed therapist and Yoga instructor Yamuna Zake, allow you to work specific muscles in detail to create suppleness in tight areas, realign bones and joints, and optimize range of motion.
Over the years, the Yamuna Body Rolling practice has earned respect from chiropractors, physical therapists, Yoga, Pilates and Gyrotonic instructors, massage therapists, bodyworkers, fitness trainers and dance teachers.
You use your body weight to sink into the 6 to 10-inch inflatable balls designed exclusively for Body Rolling so they become the skilled hands of a therapist. You choose the size and resistance of the ball, depending on what parts of the body you are working. Some balls allow for more detailed muscle and tissue work and other balls release tension to create relaxation and space from head to toe.
SPACE
If we need space on a psychological level, all our body parts also need it to function optimally. Body Rolling's basic principle is that pain, restrictions, and body problems in general come from a lack of space. Body parts are compressed (joints, vertebrae, organs) so they can't move or function like they are supposed to, therefore you feel pain. The body gets locked into patterns due to habits, repetitious movements, traumas, etc. So we work to restore space in the body.
ANATOMY
Body Rolling works following the body's anatomical logic and order. We start stimulating the bone, which initiates the release of the muscle since the bone and muscle are attached via tendons. We'll then roll along the muscle, from origin to insertion, exerting traction with our own body weight so that the muscle understands in which direction it must release.

DETAIL
Body Rolling targets all body parts through specific routines : from «foot fitness» that re-educates the muscular chains of the leg connecting and realigning foot, ankle, knee and hip to prevent injuries in those joints to the intelligent sequencing of movements over the ball that prevent headaches, back, neck and shoulder tensions; repetitive stress syndromes, such as carpal tunnel, that result from hours of sitting at a desk or computer. You will work through the layers of tension built up over years, moving progressively through deeper layers.

ADAPTABILITY
Ideal for athletes, yogis, dancers, musicians, singers, Body Rolling is also strongly recommended for people with a more sedentary lifestyle to keep their body pain-free and flexible throughout life, instead of experiencing the stiffness and restrictions associated with aging.
No matter how old you are or what physical issues you might have, all Body Rolling routines can be modified, so that you can safely do them and still see dramatic improvements.
FITNESS
Before or after any type of physical activity, Body Rolling can warm-up the muscles or be a massage.
It helps improving performance and therefore optimizes your workouts. Moreover, it both prevents and assists in the swift healing of injuries. As to your silhouette, not only does Body Rolling stimulate all the nerve roots along the spine which encourages lymphatic drainage and increases the metabolism but elongating and freeing muscles improves your posture, so you have a longer, leaner look.
Yamuna Body Rolling For Core Strength
Слушать
Загрузил: Michelle Gregovic
Длительность: 3 мин и 5 сек
Битрейт: 192 Kbps
Похожие песни
Shoulder Release Yamuna Body Rolling
Body Rolling Dianne Glass
Improve Your Overhead Arm Reach
Free Your Lower Back
Esercizi Di Attivazione Del Trasverso Addominale
Stefania Cocchio Studio Balance Pilates Senago
What Is Yamuna Face Ball
Save Your Face With Yamuna Method
Lose Round Shoulders
How To Fix Your Lower Back With The Yamuna Balls
Minecraft Speedrunner Vs 5 Hunters Finale Rematch
Nocap 200 Or Better Music Video
Kodak Black Closure Official Music Video
Apex Legends Raiders Collection Event Trailer
Cowboys Vs Saints Week 13 Highlights Nfl 2021 Highlights
Juice Wrld Justin Bieber Wandered To La Official Trailer
Yung Bleu Kehlani Beautiful Lies Official Video
Joshua Bassett Crisis Official Music Video
Joshua Bassett Set Me Free Official Music Video
Snowman Song Cocomelon Nursery Rhymes Kids Songs
Cocomelon — Nursery Rhymes
Muffin Man Song More Nursery Rhymes Kids Songs Cocomelon
Cocomelon — Nursery Rhymes
Deck The Halls Song Cocomelon Nursery Rhymes Kids Songs
Cocomelon — Nursery Rhymes
Слушают
Я Вышел Ростом И Лицом Спасибо Матери С Отцом
Любовь Против Судьбы
Vini Vici Skazi Whito1Se Upgrate Beautiful Voices Psytrance Mix Hd Hq
Волахьа Хаз К1Ант Со Д1Айига
Не Грусти Не Рыдай
Don T Play Feat Lil Baby Polo G
Andy Panda Endorphin
Песни Про Любовь Лирические
To Heal The Legend Of Korra
Жги Зажигай Тик Ток
Шон Мс Гиря Кун
2Pac Dmx My Hood
Минус Песни Ветка Сорвана
Евген Бро Песня Ты Не Мог
Скачивают
Absent From The Body This World S Disease Official Lyric Video
Free Lovv66 X Pinq X Flesh Hyperpop Type Beat Galaxy
Как Снимали Ольга Бузова Чемпион
Happy Syntheziser Ai Mikaze Y Tokiya Ichinose
Yamuna Body Rolling For Core Strength
Jomie Brighter Days Slowed Reverb
Free Drake Type Beat Take Me Free Type Beat 2021
Dance Dance Revolution Supernova Plus 2 Stepmania
Timbaland The Way I Are Lyrics Ft Keri Hilson D O E
Menjadi Psk Pria Dan Tukang Pijat Plus Plus Kejamnya Dunia
Qori Sedih Ahmad Jalaludin
Алиса 2011 Донецк Спорткомплекс Дружба Вот Так
Ahmad Al Muqit Ultimate Nasheed Collection 2021
Puppy Surprise Compilation Try Not To Cry Puppysurprise New Puppy
Dj Gregsappodarja Umiling Rclyze Dj Viral Tiktok Terbaru 2021 Sound Greg Sapodarja
Вольфсбург Фрайбург Германия Бундеслига
Jpb High Feat Aleesia Ncs10 Release Diviners Izecold Culture Code You I Feat Alexis
Боди роллинг ямуна зейк
Авторизуясь в LiveJournal с помощью стороннего сервиса вы принимаете условия Пользовательского соглашения LiveJournal
теория и практика
Май 2018
Вс
Пн
Вт
Ср
Чт
Пт
Сб
1
2
3
4
5
6
7
8
9
10
11
12
13
14
15
16
17
18
19
20
21
22
23
24
25
26
27
28
29
30
31
Метки
Мастер-классы по Yamuna Body Rolling в Екатеринбурге
17 и 18 декабря в Екатеринбурге состоятся мастер-классы по Yamuna Body Rolling — системе работы с телом, основанной на хатха-йоге и сочетающей в себе гимнастику и массаж. Система разработана американкой Ямуна Зейк, которая, начав практиковать йогу в возрасте 16 лет, к 25 открыла один из первых йога-центров в Нью-Йорке, а затем создала ряд эффективных авторских методик работы с телом, которые в настоящее время признаны во всем мире.
Yamuna Body Rolling – это метод работы с телом на специальных мячах небольшого диаметра, с помощью которых прорабатываются мышцы по всей длине. В результате упражнений Yamuna Body Rolling происходит укрепление позвоночника, улучшение осанки, повышение гибкости тела, расслабление тела и проработка мышечных зажимов. Раскрывается грудная клетка, более глубоким становится дыхание, снимается напряжение с воротниковой зоны, улучшается внимание, концентрация и общее самочувствие. В результате перемещения мячей по телу происходит воздействие на все акупунктурные точки, стимулируется работа каждого органа, усиливается циркуляция крови.
Как показывает практика, эффект работы ощутим уже после первого занятия.
Плюс упражнений Yamuna Body Rolling состоит и в том, что они не требуют специальной физической подготовки, с ними справятся даже те, кто «никогда ничем не занимался». В то же время люди, которые практикуют йогу или регулярно занимаются каким-либо видом спорта, фитнесом, танцами получат мощный результат от интеграции упражнений Yamuna Body Rolling в их практику, т.к. эти упражнения позволяют глубоко расслабить мышцы, удлинить их и предотвратить травмы.
В Екатеринбурге запланировано 4 мастер-класса, включающие в себя как работу с телом, так и уникальные упражнения для лица и стоп по авторским методикам Ямуны Зейк.
Мастер-классы ведет Диля Заппарова, которая училась у Ямуны и преподает и практикует ее систему работы с телом в течение 6 лет. На данный момент она — единственный сертифицированный инструктор по данной практике в России.
Количество мест ограничено, обязательна предварительная запись.
Более подробную информацию о мастер-классах можно получить здесь или скачать в одном документе.